The eCommerce industry has been on the rise since its inception but the worldwide increase in the usage of mobile devices has supported the booming of the mobile commerce market.  
In the wake of the COVID-19, pandemic people search the internet and order various products and services on their smartphones. Consumers prefer to avoid going out and order via apps to receive the essentials at their doorsteps. COVID-19 has put e-commerce at the forefront of the retail industry and eCommerce app development company have made it possible for retailers to ride this trend.  
To prove that we are right, your everyday Amazon orders are enough but here are the stats to bring this change into broad daylight.  
According to this digital commerce 360 analysis, consumers spent $861.12 billion in 2020, which is 44% more than the $598.02 billion in 2019. And 21.3% of total retail sales were online compared to 15.8% the year before that.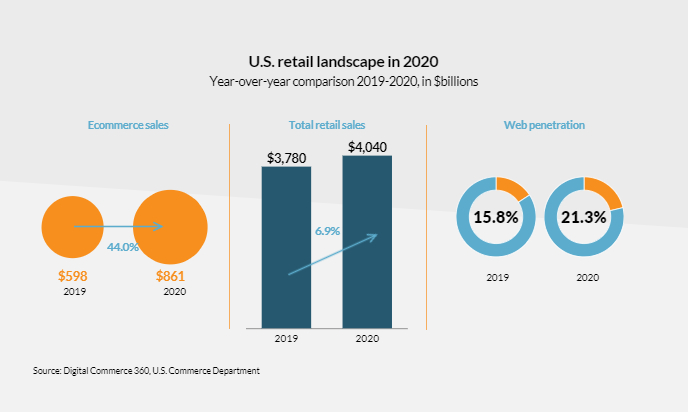 COVID 19 has accelerated the growth of eCommerce with an additional $174.87 billion in revenue in 2020 which led to the soaring total e-commerce sales to $861.12 billion. If not for the coronavirus boost e-commerce sales wouldn't have reached this number even by 2022.  


You might be wondering that this behavior of online retail shopping might alter once the pandemic is over. But let us warn you, it is here to stay.  
A Compuware study says that 85% of users prefer using mobile apps over responsive websites.  
Combine these statistics with the above results of the digital commerce 360 study, you get the next big thing in the eCommerce industry – the eCommerce mobile app.  
What is mobile commerce or m-commerce?  
To leverage the advantage of both, the thriving mobile platform and eCommerce sector, developers came up with eCommerce apps. This is known as mobile commerce or m-commerce.  
You might be thinking that if this is so lucrative many businesses have already developed a custom marketplace app. So it is not worth it to enter into a competitive space with an already established brand in the market.  
Also Read: Quick Insights: What You Need To Know To Build A Successful Marketplace App In 2021
Well, the data suggest otherwise.  
Despite the numerous opportunities m-commerce apps bring, A recent Barclay's study found that only 10% of brands have developed an eCommerce app.  
Now consider this, eCommerce apps are responsible for 34% of total eCommerce sales. So there are still a lot of markets left to capture in the eCommerce app zone.  
Now that we have established that eCommerce apps are here to stay, as a business owner, you need to think about how to offer your product or service through an app. You need to figure out: 
Which mobile app platform to target first? 
What does the marketplace for my brand look like? 
What features to add to the eCommerce app?  
For a successful eCommerce app development, it is important to find a great mobile app development company that can assist you to overcome all difficulties with passion and expertise.  
Important factors to focus on for an eCommerce app
When businesses step into app development, they want to put as many features as possible in their app. This is a bad strategy. There are countless features available to build a rich and attractive app, but that does not mean you should pick all of them at once.  
An experienced mobile app developer will suggest the same.  
So how to pick the best features for your app. As the saying goes in the modern user-focused online world "less is more", focus on 3 key aspects of eCommerce app development: 
Also Read: 7 Steps to Make Your Ecommerce Business Successful
User Experience  
Usability  
Branding  
Must-have Features in an eCommerce app

1. Secure payment gateway  
What would you prefer an easy, quick and secure payment option or a complex, multi-step, unsecured one? It's the first one of course. Just keep this in mind while eCommerce app development.  
As the number of cyberattacks is increasing, customers worry about their card info. A secure and robust payment gateway is a definitive way to build trust with your customers. Integrate the best payment gateways in your eCommerce app. Stripe, PayPal and Braintree are among the best ones.  
2. Product reviews  
The majority of online shoppers want to know about the experience of others with the product or service they are buying. This is where product reviews get you the leverage. If the reviews are good, other people are more likely to buy them. Product reviews are one of the important factors that decide online sales for any product.  
So adding a feature in your app which shows reviews clearly is a good idea. It helps to convert more people easily. 
 3. Product Comparisons  
According to Google consumer barometer, 55% of millennials and modern moms perform online research before making the purchase. By adding an easy to view comparison feature, customers won't have to leave your app while making a decision. The eCommerce app development company can integrate a feature that allows users to compare relevant products swiftly.  
 4. Product Images  
What kind of user experience does bad quality pictures create? Everybody knows the answer. We don't even need to discuss this.  
Without high-quality images that can be zoomed to the last thread, you are signalling the users that you don't care enough for them. Images help users to imagine how the product would look on them?  
Make sure your app has the feature which supports high-quality images. An attention-grabbing caption and charming product description would go a long way to help consumers understand the characteristics of the product better.  
5. Notifications  
More often than not customers said that they learn about the latest shopping trends from social media sites. Facebook is the top information source of all.  
Don't let social media channels shine in the spotlight. Become the top source for all shopping information to your customers.  
Integrate the push notifications feature in your eCommerce app. Whenever a new discount is released on the app or a season end or stock clearance sale go live, notify consumers directly on the mobile.  


Although don't be greedy and start overdoing the notifications to a point where it's annoying for the users. Be judicious about the frequency. The best number would be 2-3 notifications per day.  
Wrapping up  

An eCommerce app can take your business to a new level of success, sales and revenue. But before launching the app you need to research the competitors and know exactly what the users are looking for.  
Imenso Software is a client-focused software company that offers top-notch eCommerce app development services. If you want to take your business to the next level with best in class software solutions, mail us at info@imensosoftware.com and we will get back to you with a complete eCommerce app development plan.