When client-centric development solutions are needed, Imenso Software always stays on top to serve its customers. Jimmy Kamboj, the founder and CEO of Imenso Software, shares its transformation story with us from a small enterprise to a top IT service provider.
Specialized in delivering hi-tech solutions through its unique consultative approach, Imenso Software was established in 2010 in Haryana, India. It has worked with dynamic startups to Fortune 500 companies across the globe. It holds a record for 80% of the repetitive customers and spends an average engagement period of over 4 years with all of its major clients.
The motto of earning more satisfied clients with absolute excellence and serviceability brought Imenso Software among top-rated IT solutions providers corresponding to business trends and technology. The company handles complex business issues and simplifies the processes by providing excellent Web Development, Mobile App Development, Game Development, Power BI Development (Analytics), and UI/UX Design Services.
In an interview with the GoodFirms team, Jimmy shared how Imenso Software came into existence and in which IT domains they offer various services to its esteemed clients. He also shared how these services can add value to their client's business and what industries they cater to.
Imenso Software has been developing software solutions, websites, and mobile applications across different industries since its inception. Jimmy and the team's hard work has made the company a top leader in the software development sector.
However, they have extended their services over the years. Today, the company offers eCommerce Development, Web Design & Development, App Development, Digital Marketing, Content Marketing, Enterprise Software Consultation, Product R&D, and many more services worldwide.
While talking about how he started the company, he shared, "We envisioned commencing the software plans and deploying technologies to build brands on the internet. We started our first web design and development project under the name Imenso Software."
Being the Founder and CEO, Jimmy holds all the decision-making responsibilities in the company. At the same time, he also keeps a keen eye on developing the software, interacting with clients, and understanding the underlying needs of their clients. He said the best thing about their clients' needs is the 'expansion of reach to their target market' rather than just obtaining a website or software. According to him, the company understands the importance of building deeper connections and genuine engagement with their customers, ultimately generating greater profits and a high Return on Investment (ROI).
Imenso Software follows an in-house business model supported by a vast team of developers, designers, testers, and analysts. More than 80 development professionals of the company work in 2 different offices in India to deliver excellence throughout the software development lifecycle.
The below-given snapshot reveals how efficiently they treat their clients and serve them best.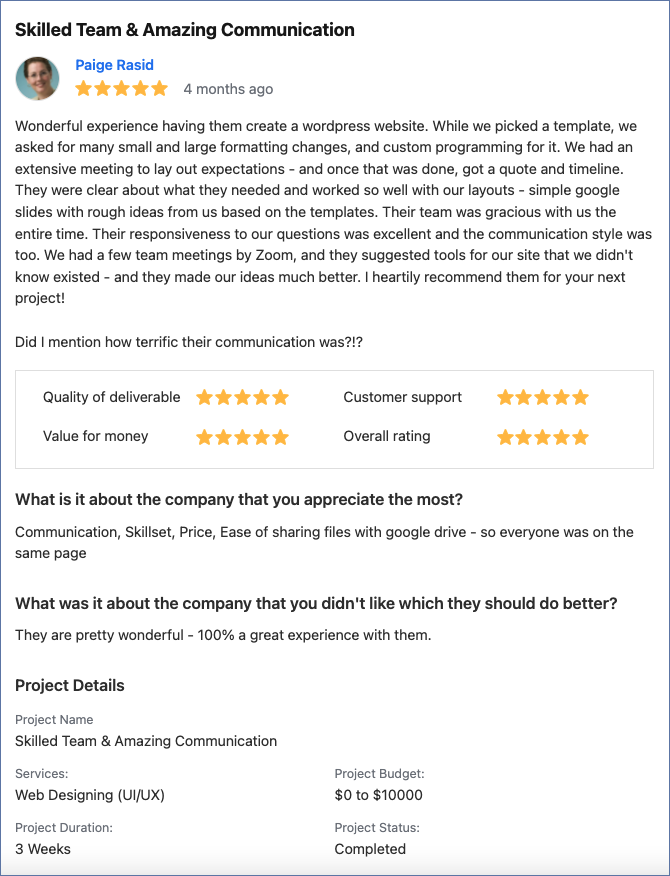 The company hires the best and most talented developers in the industry. They can work for startups to big enterprises and assures project management, execution, and consultation to their esteemed clients. This also enables them to quickly rank among India's top web and mobile app development companies.
Jimmy and the team call themselves 'product creators.' They create customer-oriented products that increase business impact, reduce costs, and enhance actual revenue streams. This is the reason why he advocates that his company's business model is beneficial for their clients from a value addition perspective.
When asked about what industries they cater to, he answers Education, construction & real estate, fintech, food tech, marketplaces, eCommerce & retail, transportation, logistics, e-health systems, e-learning, media, communications, etc. He also mentioned specific parameters to determine the time frame to develop a software project.
He shared that more time is consumed to develop the backend of software, especially when the project has complex systems with customized functionality and rich features. In general, a 70:30 ratio can be undertaken for developing backend and frontend functionalities depending upon the project's complexity.
Jimmy shared that he is mainly asked about the key parameters to be considered before selecting the right platform for developing software. He answers that the right tech stack comes from a user perspective, project ROI, and business goal. The main parameters also depend on user demographic, client's business model, platform's safety, scalability, capacity for high traffic loads, project deadlines, project revenue model, budget, etc.
Jimmy deeply elaborated about the platforms and frameworks used by the company to create software programs and develop web solutions.
He states, "We choose technologies that are easy to upgrade, scale, and integrate new features quickly. Our specialization is PHP and Python for backend, and for frontend, we pick JavaScript. For web development projects, we choose Angular, Node.js, and React.js. All these frameworks work best for enterprise-grade solutions. For mobile app development projects, we use React Native, Android, and iOS, depending on the target market of the client's product."
Imenso Software basically prefers using WordPress as a content management system as it is easy to scale, secure, and has many themes for later integration. It also uses Shopify, Joomla, and Drupal for customized client requirements, as the CEO shares. Jimmy agrees to provide software maintenance services to their clients by an experienced and dedicated team of testers and QA specialists that detects and solve issues, upgrades the product as per user behavior and release newer software versions.
Jimmy optioned some of the key factors that they consider before deciding the cost of software development in the company, including the project's scope, deliverables, team size and resources, project size for custom software development, deadlines and timeframes.
According to him, the three major engagement models utilized by the company are fixed cost (fixed payment for a set of pre-decided features or milestones), monthly/hourly (pricing for no. of hours developers hired for), and time & material. Flexible payment structures are followed by implementing agile methodologies. Their project range is between $5000 and $200,000.
Another screenshot displays how team Imenso Software performs for meeting their clients' needs.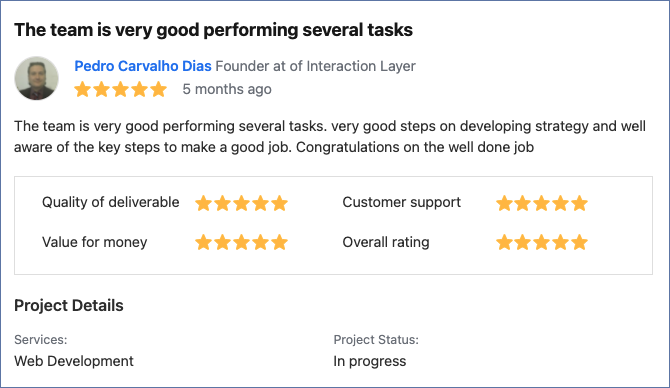 This is an extract of the interview of Jimmy Kamboj, the CEO of Imenso Software. You can glance at the detailed interview at GoodFirms.
About GoodFirms
Washington, D.C.-based GoodFirms is a maverick B2B research and reviews firm that aligns its efforts in finding web development and web design service agencies delivering unparalleled services to its clients. GoodFirms' extensive research process ranks the companies, boosts their online reputation, and helps service seekers pick the right technology partner that meets their business needs.