MEAN (MongoDB, ExpressJS, AngularJS and NodeJS)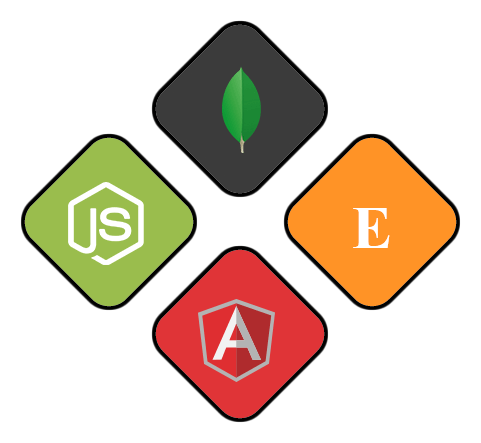 The MEAN stack comprising MongoDB, ExpressJS, AngularJS and NodeJS has emerged as a more modern and lean alternative to the traditional LAMP stack. Fully powered by JavaScript it also came as a money saver option for many companies boasting off a solid team of JavaScript developers building client-side apps. MEAN stack is made to build apps faster and with less vulnerability of coding mistakes because of great reusability of code. For the database, it is equipped with MongoDB, for web development framework it has Express.js, for front-end app development it has AngularJS and for the database it has the most popular and flexible JSON-powered NoSQL database.
As for variation, MEAN stack as of now has only one variant, namely MEEN stack. In MEEN stack the AngularJS framework is replaced by the Ember.js framework.
Performance
The database of a stack plays the most crucial role in ensuring pace and performance. With the MySQL database of LAMP stack, the app often suffers from the high transaction loads pulling down the loading speed and overall performance.
In contrast, the MongoDB database of MEAN stack is incredibly fast and within clustered setups, by trading off consistency it keeps the performance faster. This is why when a project can afford data loss once in a while for achieving speed and flexibility, MongoDB of MEAN stack comes as the ideal choice.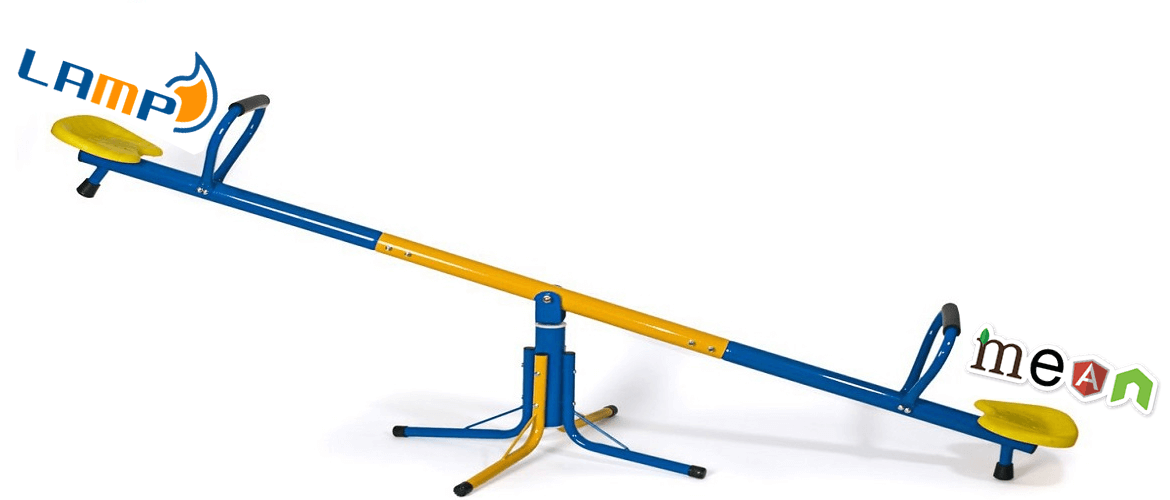 Database
MySQL (RDBMS), the database constituent of LAMP stack is a very conventional database system which lacks optimisation for fast-paced app development with flexibility and quick response rate.
MongoDB (NoSQL database) which is a key constituent of MEAN stack is flexible and cross-platform database with detailed documentation. It is enabled with JSON-style documents offering dynamic schemas to ensure optimum simplicity, ease of use and easier integration into any app.
Frontend and backend development
While using LAMP stack, you need to hire JavaScript developers for building frontend apps while for building backend you need PHP/Perl/Python, developers. Apart from this, LAMP stack comes with several different layers of navigation to access different configuration files and to use different syntax while programming. This makes the development process complex and slower.
For both frontend and backend, you don't need PHP expert and a JavaScript expert, or a front-end and a back-end specialist. Instead, it's all JavaScript across the stack.
Scalability
When it comes to scalability the most deterrent factor for the LAMP is the MySQL database. With a lot of requests and a high concurrency rate the performance of MySQL slumps down. With lower input or read and write ratio it performs better but with the ratio scaled up, the performance gets slower.
MEAN stack has superior advantages in respect of scaling up performance with the number of requests and inputs growing up. The stack is capable to scale up the database, frontend and backend as the rate of concurrency increases. Apart from this, MongoDB also offers support to auto-sharding and auto-failover to distribute the data evenly with automatic rearranging. This helps in scaling up the performance as the number of inputs increases.
Security
When it comes to security, both LAMP and Mean stacks are considered fully secure and stable platforms with all the crucial security elements included.
Cost
Though LAMP stack is open source and free, the actual development cost with this stack is higher as you need to hire expert frontend and backend developers.
Comparatively, MEAN stack comes as a cost-effective option. It is also open source and most importantly, it doesn't require expert frontend and backend developers.