Are you a small-business owner? Do you want to reach more customers? A website with an intuitive interface is essential for small businesses, and a website can help you grow and succeed. Learn more about how a website for a business can help you rise above the rest.
Coronavirus outbreak has caused market changes in recent years. People started to rely on online businesses after a pandemic. Online shopping is preferred by those who are hesitant to buy things online, allowing them to avoid social interaction. Everything is possible online, from daily necessities to luxury items. According to Nasdaq, 95% of all online purchases will be possible by 2040.
Table of contents

How do you create a new website for a small business?
Owners should set aside a budget to outsource web development services when starting a small or medium-sized business. To manage your online presence, a business website is essential, and Websites can inform customers about the brand's value and help increase sales.
You must choose a domain name, secure web hosting and a great website design.
You can now hire a web developer to create a website. WordPress is an advanced tool that allows them to prepare the site's outline. It has hundreds of templates you can choose from right away.
You can add additional features to your design by purchasing add-ons or extensions. You can now keep your site current by updating the information frequently. Also, ensure your site is fast enough to improve search engine rankings.
Steps to create a perfect business website for small businesses

Everyone has a website nowadays, whether you are a startup or a large company. Small and medium-sized businesses can reap the many benefits of a website. Websites have allowed businesses to grow exponentially in a short time.
Websites allow businesses to promote and sell their products and services. They also allow them to establish their identity. Websites can also be used to identify freelance photographers. This creates trust and leads to an increase in sales.
Many small businesses can now create websites thanks to the WordPress website building platform. A survey found that 32% of small businesses use website-building platforms to build a website. WordPress is a great platform to help you create a website for your startup.
To create a website that is easy to use, you should focus on these points.
Determine the purpose of the website
Customers can access information about your business through a website, and it should clearly describe the business's nature. When designing a website, be mindful of the user experience. Easy-to-use interfaces attract customers and increase the likelihood of placing orders.
Select a domain name
A unique domain name is a key branding characteristic of every business online. A simple name that is easy to remember can be the link between your business and your customers. Promoting your brand on social media can be done with a unique name.
Choose the best web host
It is important to choose the best web hosting provider to run a website. Web spaces are where website files are stored, and all data are accessible to the public at all times. A shared web host is a good option for small businesses.
Also Read: Hybrid Working Model: A New Normal For Businesses After The Pandemic
You can share a server with other websites, and you'll pay less. It can be costly to get dedicated hosting. If you choose this option, your server will be delivered to you.
Build your website pages 
When designing a website, multiple pages should be created for each product or service. You can provide detailed information on each page to help customers understand the quality of your products and services. You should also create a logo to give your business identity.
Install your payment system
Sometimes, the payment option may not be necessary for every business. You can include it on your website if it applies to your business. Businesses can integrate electronic payment systems to make it easy for customers to pay. Make sure the site works on all browsers before making it live.
Social media marketing for your website
Promoting an online business is easier with social media because multiple platforms allow you to reach more customers. You can also attach a link to social media for organic promotion, and the links will generally be in the footer.
Invest in SEO
SEO strategies are a way to improve your website's appearance. Relevant meta descriptions and title tags can also help to improve rankings. It is important to select the most popular set of keywords.
You can choose the most relevant keywords for your business based on their nature.
Publish Blogs regularly and use internal links to drive traffic to your product and services pages. To attract attention, you can use the links strategically throughout your website. Optimizing images, in addition to content, is essential, and for maximum speed, it is better to compress images or videos.

These are the 7 simple steps to build a website for your small business but if you want to create a website in 5 minutes, here are the best free DIY tools.
A note:
These tools are for beginners looking to create a website free of cost for their local business with basic features and limited online exposure.
For a full-fledged website with payment systems, data storage and a good traffic volume, it is best to hire a website development company. (we will look into how to hire a web development company which is the best fit for your business later.)
The top 5 free website builders for small businesses
Wix 
Wix is one of the easiest website builders out there. One big reason that Wix is the best platform for beginners to create a website is that it provides many ready-to-use templates for various business niches.
You can simply choose a template and edit it the way you like.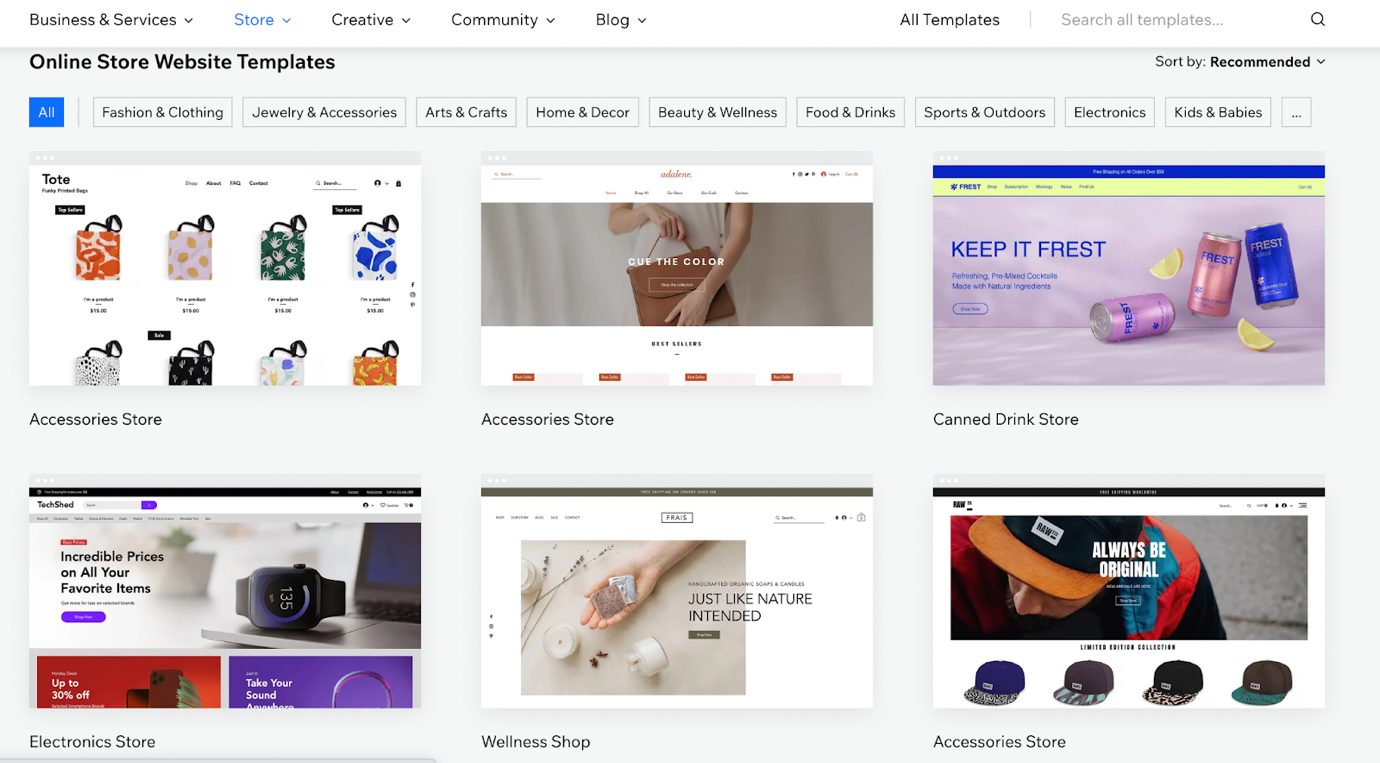 Of Course, there are benefits and drawbacks to using this free platform. Here are a few of them:
Positives
Negatives

Easy drag & drop feature
Simple upgrade plans

No branded URL
Wix Ads
Limited customization
Weebly 
This free website builder is similar to Wix as it also offers a lot of free templates and intuitive drag-and-drop features in the free plan. But it does have its pros and cons.
Positives
Negatives

Surplus of templates
Easy drag & drop feature
Low upgrade prices

Weebly ads
Limited customization
Limited plugins
No free support
WordPress 
43% of all websites are built with WordPress, as it says on their homepage.
It is the most comprehensive free website builder with all the free plugin and theme options it provides. You can install plugins for anything from SEO and chat support to multiple language use. WordPress offers a lot of freedom to customize your website in the free plan itself.
Positives
Negatives

Infinite customization options
Thousands of plugins & themes
Great user reviews

Complex for beginners
Best plugins requires top tier paid plan
High customization for best results
Google sites 
Google sites is a fantastic option for small businesses that want to create a basic information-packed website.
All you need is a free google account, and you can build it with google sites. It is one of the easiest website builders. You need to select a theme, add your website pages and get started.
You can also add buttons, text boxes, videos and other elements to the web pages.
Positives
Negatives

No Ads
Streamlined & user friendly website
Responsive website pages
Shared access

Google branded URL
Limited features
Squarespace 
Squarespace is ideal for small ecommerce business websites. It has beautiful designs and is incredibly simple to use, along with plenty of ecommerce tools that work perfectly for a small online store.
It is not completely free, but it does have a two-week free trial of the premium plans.
Positives
Negatives

Tons of built in tools
Beautiful designs
Great functionality & support

Learning curve
Average SEO
All the above free website builders have limitations and are often designed to get you to sign up for the paid plans.
But for a highly customized website with advanced features, you will need to hire a web development company. Here's how to go about it.
How can Small Businesses Select a Web Development Company?
Hire web developers to gain new ideas to market your businesses and get more clients. The experts employ various methods to load your website swiftly and safely. To get the best service SMBs (small and medium-sized enterprises) should look into the strategies of the companies. They can examine the services they provide. The quality of the work can be assessed by the solutions provided to web designers in past years.
If you're planning to build the creation of a new website for your startup, You can get help from experts from a reputable web development company. They also can assist businesses in improving their websites when planning to expand on a local or global scale. A well-designed website can enhance the credibility of a company. Additionally, a well-optimized website can generate the most results and converts.
Communicate and Collaborate
Before beginning any undertaking, it is crucial to discuss the project thoroughly. At the beginning of the meeting, you can communicate directly with the professional in charge. It is important to know the method of communication and the person responsible for any queries or feedback.
Look for Back-end Development and other Services
Apart from programming and coding different processes are required to develop websites. It is possible to find firms that offer services in the fields of web design and development. For the best services, it's best to choose a firm providing a range of services. All the services offered in one place will ease your burden and produce precise results.
Ask for Work Samples
If you are considering partnering with a web development company, You should look at the comments of previous customers. Reviews from customers can help to clarify the picture.
This provides an insight into experts' availability at the company, ability to respond, and project management.
Evaluate their team's skills
It is best to look at the capabilities of resources that are available. A round team of front-end and back-end web developers can deliver the most effective outcomes. You can employ Scrum masters, QA technicians, and other specialists based on your needs.
Calculate the budget
If you are hiring developers to work on your project, It is advisable to determine the amount of money you will invest. Examine the needs of your venture and get an idea of the costs. It is important to focus on your requirements and not invest in flashy components.
Think about the web hosting service
It is essential to determine whether the company developing websites provides a dedicated web hosting service or a shared hosting platform. Also, you should gather information about the frequency at which the backup of your site is accessible? How long will the backup be kept, and how fast is your hosting service? By answering these questions, you can choose the most reliable developers in the market.
How much will it cost to build a website for small and medium-sized businesses?
Remember that your website is your storefront online and requires a lot of focus. Whatever your business model, whether your business is offline, online or both, it's important to establish an online presence. This will allow you to showcase your company professionally.
The cost of building a small-sized website can differ based on the number of websites, the features and the functionality. It includes the cost of purchasing a domain, how the site is designed, and other factors. The most important factor to consider is the number of pages.
Also Read: Get the Best from WordPress in 2021 Using These Awesome Plugins
Following the requirements of the business, there may be a variety of pages. Additionally, companies may need a contact form. Certain businesses prefer to collect details about the people who visit their websites.
Furthermore, one of the most important tasks is creating an online shop for small businesses.
The website must have an eCommerce function. Different products can add to the site based on the type of goods. After creating various sections, businesses can include payment gateways. This will make the purchase process more convenient for the customer. With credit or debit cards, consumers can pay for purchases effortlessly.
Many companies use their small-business websites by incorporating blogs to communicate information. They can offer updates on business and articles on industry topics to communicate with their viewers. With the help of pertinent keywords, publishing information for search engines and driving more visitors to your site is possible. This can help build a more prominent online presence.
The final price of a site is contingent on various factors, including the number of pages you have that you want to host, the features you need and whether you'd like an eCommerce store. The cost of a website could vary based on available resources and alternatives.
Final Words

In general, when beginning a small-sized business, owners must cut down on the amount of unnecessary expenditure. When reducing their expenses, they need to be aware of the things essential to running a successful business. For example, a website will help your business expand.
Knowing the significance of websites, you can start by creating a professionally designed site covering every aspect of your company.
A business website can boost the visibility of your business in addition to lead generation. Also, it can convert visitors into buyers.
The industry experts suggest starting a website using hosted plans that share hosting. Once they have achieved popularity, they can expand the website and obtain templates designed.
For more information on starting your digital journey, connect with our web development company. Our enthusiastic team of developers and designers would be glad to assist you.