Laravel is an open-source PHP framework that was created by Taylor Otwell in 2011. The web application development framework is among the most trending PHP frameworks for various industry verticals.  
Here is a graph for the same: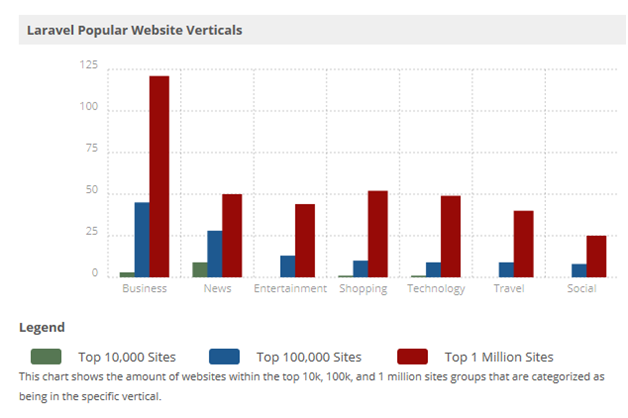 Laravel is based on the Model-view-component (MVC) pattern and has over 45k stars on Github. The widely used framework powers more than 20 million websites and its popularity is accredited to the launch of robust features like database migration, easy tool integration and more.  
This PHP framework is very promising and applies a bunch of top practices which makes it the best programming language for both small and big businesses.  
Apart from modern build-up and rapid functionality, the young PHP framework has a large and active community online. There are tons of blogs, forums and experts available where any coding issue can be quickly resolved in minimum time. 
Also Read: Why PHP Laravel Framework is the Best
Laravel has high demand in web development among other frameworks due to its problem-solving convenience and tricks for faster programming. The no repetitive code makes Laravel easy to apply and maintain.  
The top 9 features that make Laravel the best PHP Framework  
1. Template Engine  
Laravel is the best PHP Framework due to its built-in lightweight templates. These templates are used to design beautiful layouts with dynamic content seeding. Laravel has various widgets that integrate CSS and JS code for a stable structure.  
Laravel website development companies use these simple layouts to create innovative and distinct sections in web pages.  
Laravel templates also allow you to change, clean and customize layouts without any coding hassle.  
2. MVC Architectural Support 

Laravel sustains the MVC (Model-view-component) architecture. The MVC pattern has many in-built functions to improve the performance of a web application. The pattern helps increase the security, offer easier maintenance and scalability.  
The MVC architecture enables clarity between business logic and presentation. It also improves performance and provides better documentation.  
3. Eloquent ORM (Object-Relational Mapping)
Another brilliant feature of Laravel is Eloquent ORM (object-relational mapping) which has a simple yet powerful implementation of PHP active record. This enables web app developers to write database queries with PHP syntax instead of SQL code.  
An ORM is faster than any other PHP frameworks and thus deploying robust web applications with Laravel is rapid. It is the best choice where faster development of web applications is required.  
4. Libraries and Modular  
Laravel, exclusively among other PHP frameworks, has pre-installed libraries. There are many other Object-Oriented libraries as well.  
Using these pre-installed libraries developers can implement trending features including password reset, checking active users, Bcrypt hashing, CSRF protection, and encryption as these are authenticated libraries.  


Laravel framework is divided into individual modules with modern PHP principles which let programmers develop responsive, modular and handy web apps. It is one of the top frameworks for error handling as it has an integrated monolog logging library.  
Handling errors properly is important for any application to be able to provide a flawless user experience. Error handling is an impressive feature of Laravel as it is the best to overcome such issues easily.  
5. Artisan 
Artisan is a built-in tool in Laravel for the command line which helps developers to automate several repetitive and tedious programming tasks. Developers don't need to perform all such tasks manually.  
These artisans make it easy to manage databases by creating database structure, skeleton code and build their migration.  
Also, it can generate basic MVC files through the command line and manage assets and their respective configurations. Artisans also allows developers to create their own commands to utilize them as needed.   
Also Read: Why Choose India For Your Next Software Development Project
6. Security 
Laravel framework is designed for strong web application security. All the data stored is protected using a hashed and salted password mechanism where passwords are never saved as plain text in the database.  
The mechanism generates encrypted passwords through Bcrypt Hashing Algorithm for top-level data security. It also makes SQL statements that prevent SQL injection attacks. 
There are more attacks online than ever before. As a business data protection is a top priority while web application development and PHP Laravel framework is the best pick for it.  
7. Migration System for Database 

The migration system in Laravel expands the structure of the database of web applications without recreating every time developers change the code. There is no risk of losing data due to this feature.  
The migration system not only facilitates the changes in database structure but also let developers do so using PHP code instead of SQL. The Laravel schema builder lets you change the schema, migrate and then re-migrate database tables and developers don't have to remember it even. Laravel automatically does it for them.  
8. Tool Integration 
One crucial factor to create the best user experience often include speed. This is true for web applications as well. Speed, conversion rate, SEO performance are all affected by certain features and functionalities of the website or application.  


Tool integration makes it very easy to improve the web app performance by caching backends. Laravel supports popular cache backends like Redis and Memcached out of the box to help devs enhance and create a speedy experience.  
9. Unit Testing 
Laravel is the chosen one for unit testing by web app developers. It is the favorite framework as it can run multiple unit tests to make sure that new changes in code by the developers doesn't suddenly break the web application.  
Developers can write unit-tests in their code in Laravel. It is also known to have the most stable releases of web applications in the industry as it is always aware of the known failures.  
Also Read: PHP vs Node.js – Which is the Better Programming Language?
Testing is very important before deploying a web application to ensure it is free of errors and bugs. And Laravel stands out as the best framework for testing as it supports PHPUnit and automation testing to check any web application before it goes live.  
Except for the above-mentioned features Laravel has many other cool features which makes it the best and most preferred framework to develop web applications.  
If you have a business and you are looking to develop a web application project using the Laravel framework, feel free to contact our Laravel application development team.