Owning a mobile app is a legit revenue-generating successful business stream.  
According to Statista, by 2023 the mobile app market is expected to generate 935 billion U.S. dollars in revenues via paid downloads and in-app advertising.  
So if you have an app, 2021 is the best time to monetize it.  
In this guide, you'll find answers to every aspect of the mobile app monetization process from planning to executing a successful mobile app monetization strategy.  
What Is Mobile Monetization? 
Simply put, mobile app monetization is driving revenue from your mobile app. Whether it's a gaming app or news or lifestyle, an app should be a part of your online business model.  
If you have a unique app idea you want to turn into a business, talk to our mobile app development team. We would love to make your imagination come alive.  
When is the right time to monetize your app? 

The best time to monetize a mobile app is that sweet spot where your app has consistent downloads with constant user engagement. if the mobile application does not have good engagement then it is not the right time to monetize your app through ads.  
Keep updating the app and monetize through in-app purchases or charging an upfront fee before installation. We will talk more about these monetization strategies later in the post. 
You can also follow the trend of creating two versions of the same app. Developers are making one light version for ads revenue and another heavy version for paid users.  
Also Read: Define Your Target Audience for SEO with These 7 Steps
App Monetization Methods  
Before deciding on a monetization strategy for your app, you must know what the market trends in your industry are and what the most profitable models are.  
There are two ways to make money off a mobile app – Direct Monetization and Indirect Monetization.  
– Direct Monetization: 
The straight way of making money from an app. All the revenue generated from an app like buying something from an eCommerce store or paying $3 to download an app is direct monetization where sales are coming directly from the app.  
– Indirect Monetization: 
This method of revenue generation is not directly connected to the user's engagement on the app. The most common examples of indirect monetization is a product or service which also has an app for user convenience.  
The app is not used for monetization directly; instead, it enhances the quality and access of the service or product. This is commonly used for software products. An app experience along with the software product is more attractive for customers and improves the user experience.  


App Monetization Models  
The app monetization models are trends followed by smart developers to make money while maintaining a satisfying user experience. Many apps like Netflix, Tinder and TikTok generate huge revenues without sacrificing user experience but that's not the only strategy to make money from mobile apps.  
Let's look at the 8 most successful mobile app monetization models used by startups, companies and individuals across various industry verticals.    
1. In-app purchases  
In-app purchase model, you sell additional features to the users. Extra characters in the gaming apps, an advanced filter or just an extra exercise video. This model is best for apps with multiple features or products. They can monetize the advanced features or premium access and offer the rest for free.  
Most mobile apps adopt the in-app purchases strategy. They offer free download and free features with a lot of options for monetization.  
The prime benefit of this model is that once a customer becomes a paid member their engagement increases. And for the free users, it is still an awesome experience.  
2. In-app subscription  
First used by media companies to sell their content, in-app subscriptions have now become one of the best app monetization models to pick. The idea is to offer basic access and unlock the whole content of the app with a subscription fee.  
The major difference between in-app purchase and subscription is that the main offering of the app is not hindered in the former. While in-app subscription allows very limited access to the main content, product or feature without the payment.  
3. Complete subscription  
The app model used by Netflix and Prime video is a complete subscription strategy. This means the app is available to download for free but even basic features are not accessible without a subscription.  
This type of monetization model is best for apps that have unique content which will not be available anywhere else.  
4. Paid Downloading  
In this model of app monetization owners charge an upfront fee even for download. The model is simple but hard to pull off as convincing users to pay first without experiencing the product is difficult. Only a company with a well-established brand presence can successfully execute a paid downloading monetization model.  
Most apps today are free. So if you want to charge a fee before letting the users experience your product is not easy.  
5. Advertisements  
The most common form of monetization for apps is advertisements. On the apple store alone there are 1.96 million apps available and according to Buildfire, 98% of app revenue comes from free apps. Advertisements are how all the free apps make money.  
Also Read: Does Your Business Have A Mobile-Friendly Website? Learn How It Can Be Beneficial
The only drawback of running advertisements on the app is the disruption in user experience which can be resolved by ads providers that run more relevant and native ads.  
Some of the best ads provider list: 
Google Ad Exchange  
Admob 
InMobi 
Smaato  
Pubmatic 
Index Exchange  
TripleLift  
6. Freemium  
A freemium model is a combination of the in-app purchases and subscription model where there is a free and premium version of the app. It can either be placed in subscription or in-app purchases.  
The freemium model is worth mentioning separately because of its genuine brilliance. This monetization model engages a lot more customers on an app than a complete paid version would have gathered.  
The strategy is to offer a free version of the app first and then premium versions with better user experience and solutions.  
Like Zapier. It is a task automation software between services. They have a free plan with 5 zaps and four other premium plans starting from $19.99 per month.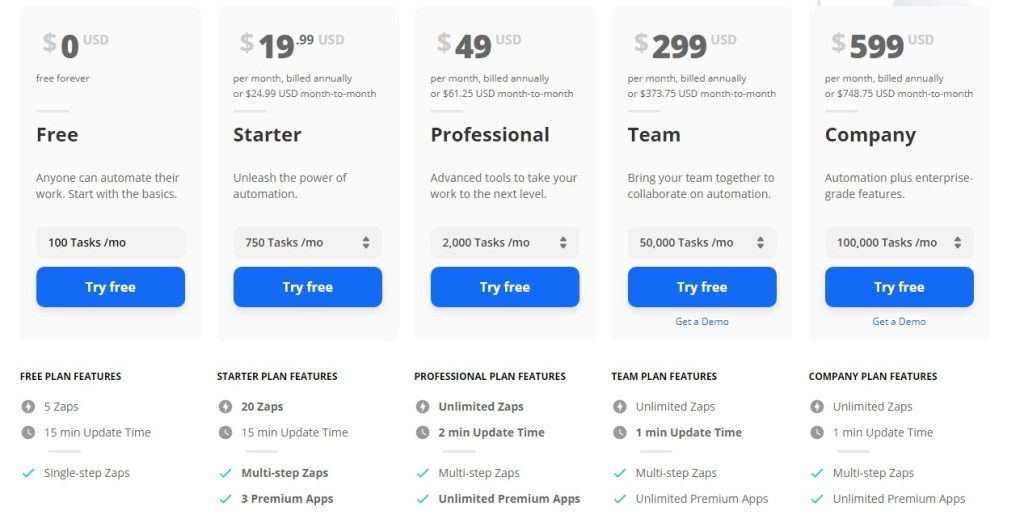 7. Product Extensions  
This is an indirect monetization strategy that we discussed before. A great revenue stream for products and services both via the mobile app but the money doesn't come from the app itself.  
Let's look at Microsoft Office or other Microsoft tools like Power BI. These softwares have the paid desktop version but with the paid plan you also get access to the app for free. 
Such app product extensions give an edge over the competition in the market and add a lot of value to the product.  
8. Reverse App Monetization 
Apps like Sweat Coin, Lympo, and Bitwalk has altered the idea of app monetization. These apps pay their users in exchange for a certain amount of task performed. You must be thinking how do such apps generate revenue without funding?  
Such apps earn through ads and feature sponsored products. But often these products can't be exchanged for money. Along with sponsored ads and products, Sweat Coin has also added a subscription plan where users can earn crypto coins as rewards. 
Such apps in the long run earn not from the user data but through their technology. Instead of selling user data to a healthcare or insurance provider, they can bundle insurance packages for users with fewer premiums as long as they complete a certain number of steps. 
This is a unique way of app monetization and you have to agree, it's quite brilliant. If you can introduce a creative solution for problems around you then monetizing an app is not that difficult. 
How to pick the right model for mobile app monetization? 

There is no one answer to fit all solution for mobile app monetization. The success of a monetization strategy depends upon the industry and what is the product/service being offered.  
Although there are certain patterns and data analysis on which we can pick the best practices:  
If the app is only for android users then running ads is the best monetization strategy. As android apps cater to a larger audience than iOS so scaling the number of ad impressions is easy. Also among all the ad types, rewarded video ads are historically the most successful for both engagement and revenue. 
The best monetization strategies for iOS include subscriptions and in-app purchases. The apple store generates almost twice as much revenue as the Google play store. The prime factor for driving such a return on Apple stores is the premium user experience. So if you are planning to earn through ads be very strategic about when, for how long and how much to advertise otherwise it may backfire. 
For gaming and eCommerce apps, in-app purchases are vastly successful.  
Subscription models are more suited if the application product is unique and offers a lot of value to the users.  
Be mindful while running ads. Strike a balance between user experience and monetization for long term growth and revenue.  
Keep track of user's data on the app to understand user behavior and make changes in the monetization accordingly.  
A/B test. Combine different strategies and see which model the audience loves and also has the best returns.  
Also Read: How to Get Started With Hybrid Mobile Application Development?
Conclusion  
Trying to crack the mobile app monetization game is not easy. There is a good chance you will not get it right in the initial attempts. But keep on experimenting with your audience and figure out the best monetization model for your app.  


Hope this guide answered your questions about how to make money via a mobile app. if you have any more concerns about app marketing or development/design, feel free to contact our mobile app development team anytime.